Cables...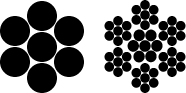 should be of the multi-wound multi "braided" type. A braided cable with many thin wire strands is far more difficult to cut than a cable with consists of a lesser number of thicker strands. Many cheaper cable locks consist of the basic cable construction whereas better quality cables will feature the finer braided construction.
The illustration above show the main difference between the two cable constructions.
Cable locks offer the advantage of flexibility. They are easy to wrap around other objects. Even long lengths (up to 6 feet or 1.8m) can be provided in a coiled form such that they are easy to carry on your bike. The thicker the total cable diameter, the harder it is to cut but it will also be less flexible and more heavy. For a lock which you intend to carry around, 8 or 10mm diameter should be sufficient although don't be tempted to leave your bike overnight relying solely upon a cable of this size.
Chain locks...

are, once more, extremely flexible although tend to come in shorter lengths than cables. The strength of the chain is determined by the type of steel it is made from and the free space within the links. Chains are good at withstanding tensional forces (stretch) but may be broken by torsional forces (twisting). This torsional force is achieved by inserting two long levers into the gaps created between links and moving the levers in opposite directions. Better quality chains will have a reduced gap between consecutive links and be of hardened steel.
Chains should prove more secure than cables for longer periods but are considerably heavier. Chains can be virtually any length and because chain collapses into a pile, they can take up less space.
Armoured Locks...
are essentially a cable lock with a sequence of articulated barrels through which the cable passes. The cable is not visible. The barrels tend to rotate if a thief attempts to saw through one, because they can rotate independently of any other barrel "link".
Armoured locks are generally more secure than a standard cable lock, but are considerably heavier, comparable in weight to chain locks. They are not quite as flexible as either chain or cable locks. Lengths are also limited.
Lock Mechanisms. Keys vs. Combination.
None of the above are complete without some form of locking mechanism to close the loop. Cable and Armoured locks most commonly have their mechanism attached directly to one end of the cable with a clasp pin on the other. Chain locks may have a mechanism attached but more commonly have a separate padlock of some sort.
The mechanism itself may be operated either by key or by a dial type combination. Combination mechanisms are only as secure as the combination number. If a lock does not feature a user settable combination, ensure that you remove the label that reveals that number! Key locks, in reality are less convenient than combinations because they require a certain amount of maintenance (lubrication) and people are prone to losing the keys! However, key operated locks do tend to be more secure than combination locks.
Flat Keys vs. Round Keys
There is very little truth in the myth that round keys are more secure than flat keys and in the case of many cheap round key locks, the mechanism is relatively easy to force.