Cycling with Children... Child Trailers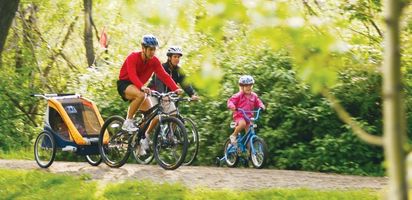 General Description...
Trailers are becoming more popular. They are now common sights at public areas where cycle hire is offered. This provides an ideal way to try a trailer before buying.

Almost all trailers are "1 or 2" seaters, allowing you to carry either 1 large child or 2 smaller children. The average weight capacity is 45kg (100lb). Restraining harnesses are provided so the children are strapped in comfortably. Most seating is fabric which increases comfort for the passengers. Better quality trailers may provide space for a small amount of luggage however the weight of any luggage must be included when calculating the overall weight. Some trailers feature a "hard pan", ie they have a solid floor. This can prove to be an advantage, particularly if your kids don't wipe their feet on the doormat before getting in!

General construction is from steel or alloy tubing with a fabric (generally canvas/cordura type material or heavy duty nylon) body. Windows are provided so the children can see out and some windows will have roll up screens with a mesh behind for hot days. The mesh prevents any debris from entering the trailer compartment.

The trailer will attach to the towing bike by means of a secure fastener which couples to the back of the bike frame. Some trailers have quite elaborate towing hitches.

Most trailers fold almost flat, quickly and easily without the need for tools, for easy storage and transporting. Some of the signs of a quality trailer are elements such as quick release & cambered wheels, 5 point harnesses, taped and reinforced fabric seems, alloy rims and hubs.


Pros...
Some (most) models are designed to carry up to 2 children.
Allows a newborn to be transported, with additional fittings. Please note only a small number of trailers offer this facility and special accessories are required.
Does not affect the handling of the adult bike.
Made of very robust materials but are relatively light weight.
Most feature rain covers as standard features.
The best option for distance cycling on roads.
Perfect for a "ditch the car" school run.
Can be used at the same time as a rear mounted baby seat enabling you to transport up to three children at once.

Cons...
Initial cost per child is higher than with a baby seat, although this is offset by being able to use the trailer for a longer period of time.
Trailers tend to get very dirty because debris and road water is cast onto them by the wheel of the towing bike.
Its annoying when a child asks why you're wet and they aren't.

Expect to Pay...
Trailers range from about £100 - £400. Expect to pay more for lighter weight models and additional features.
Image Copyrights
Images depict trailers manufactured by
Chariot
Child Trailers are available from a number of other manufacturers and use of Chariot trailer images is in no way an endorsement of their product for this purpose.
Permission for use of the images has been sought from
Chariot
through their UK distributor
AMBA Marketing
and copyright over these images remains with the respective supplier.